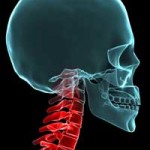 Neck Pain & Whiplash injuries are commonly caused when a car is struck from behind and the occupant's head is suddenly jerked back and forth beyond its normal limits. Other collisions and sports injuries can cause a whiplash injury. Frequently patients do not make the connection between the problems they have suffered with for months or even years and the injury that caused the problems.
In addition to neck pain a whiplash injury can cause headaches, dizziness, blurred vision, pain in the shoulders, arms, hands and more. Do you find it difficult to look over your shoulder? Do you feel tension and pain in your neck at different times of the day?
Remember that your neck supports your head which is very heavy – you do not have to have experienced a whiplash injury to suffer from neck pain. Whatever the cause it needs to be found and corrected.
To help find the cause of your pain we offer the following:
Full Consulatation with a Doctor of Chiropractic
Through Examination with Neurological, Orthopeadic & Blood Pressure Tests
Spinal Scans
Digital Foot Scans
Postural Analysis
X-Rays (if necessary)
A Detailed Verbal Report of our Findings and a thorough explanation of the X-Rays

After this, you should know more about your body and the problems you are experiencing.
Whether you go ahead with treatment as always is entirely your decision. If the care you require is outside of our scope, we will recommend you to the relevant healthcare professional.

Ready to talk to an Expert? We have limited new patient appointments available. Get in Touch TODAY
---

REFERENCES
Breig. A. Et al., Effect of mechanical Stresses on the Spinal Cord in Cervical Spondyiosis Neurosurgery., 25; 45-56. 1966
Harrison. D., D.C., Spinal Biomechanics. A Chiropractic Perspective Journal of Clinical Chiropractic 1992
Kirk,R.,D.C., Lawrence, D., D.C., Valvo, N., D.C., States' Manual of Spinal, Pelvic and Extravertebral Technics, 3rd edition, National College of Chiropractic, 1991.
Maynard, J., D.C., Healing Hands, 4th Edition, Jonorm Publishing, 1991.
Schafer, R., D.C., Faye, L., D.C., Motion Palpation and Chiropractic, 2nd edition, Motion Palpation Institute, 1990.
Strauss, J., D.C., Chiropractic Philosophy, 3rd edition, Foundation for the Advancement of Chiropractic education, 1994.