For a full consultation, examination, digital postural analysis, foot scans, spinal scans and x-rays (if clinically indicated) for an online special price of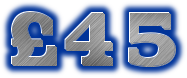 (Usual Price £150)
Please do not assume that because we have such an incredible offer to have your spine and health checked, that we compromise our care. We simply offer a reduced fee to allow as many people as possible to afford this important evaluation.
Attention: For the month of we have only 11 spaces available!
To avoid disappointment enter your name and email address below and that we can email you the new patient voucher. Please call as soon as this arrives in your inbox to reserve your appointment.
If all spaces are taken, you will be added to our waiting list. If all lines are busy, please keep trying. We WILL answer your call.